Your solution provider for grain silo storage management system | FineTek
Silo's inner temperature must be measured in order to store quality grain. During storage, grain face the risk of fungus, rodent or insect so; precautions must be taken these risks by keeping temperature of silo periodically.
FineTek's temperature monitoring system for storage silos enables you to keep a closer check on grain quality during storage. The measuring cables consist of strong reinforced plastic tubes with a number of sensors. offers two types of temperature measuring and monitoring systems –a PC based system with continuous temperature monitoring, alarm level and history of temperature development in the grain store.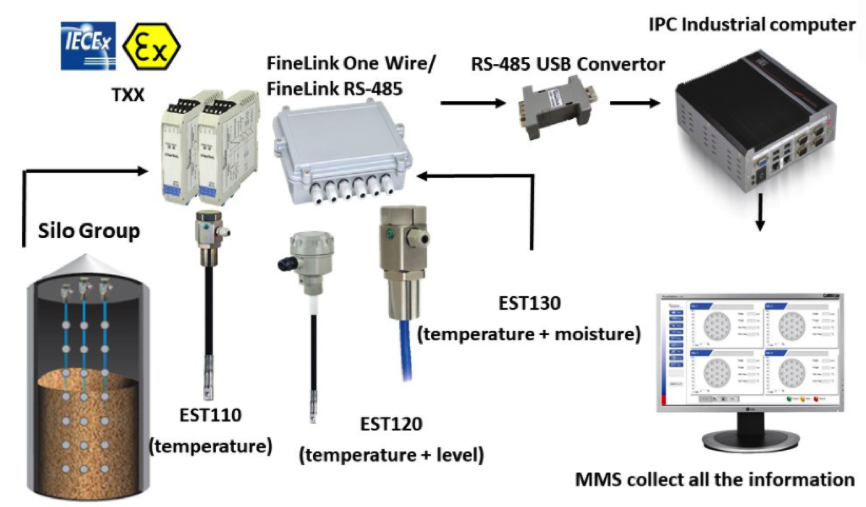 What is the advantage of temperature level monitoring system – EST series ?
Monitoring the condition of grain, food or feed mill instantly.
Strong structure design for the cable to resist pulling force Max. 4,000 kgf.
Protect the vibration and strike from material incoming to extend the durability of EST.
Widely use for many kinds of grain. Such as corn, soybean, sorghum, rice and wheat…etc. Or even coal or cement.
FineTek is the only one supplier who is able to provide 2 in 1 grain temperature& level monitoring transmitter to save your cost and installation.
Temp sensor interval and quantity can be customized.
Easy to do the remote control in office or control room with MMS-TLA system.
Temperature Monitoring system Applications
Temperature Monitoring system is the important component of grain security system, it is widely applied in all kinds of grain silos, rice mill , flour mill , feed industry , food industry and other bulk storage system .

---
Contact Us
FINETEK CO., LTD. (Taipei Head Quarter)
No.16, Tzuchiang St., Tucheng Industrial Park New Taipei City 236, Taiwan
TEL: 886-2-2269-6789 FAX: 886-2-2268-6682
EMAIL: info@fine-tek.com